Creatine´s effect on strength performance is very important for muscle mass growth because the higher strength performance You are able to do the higher level of adaptation process and so the more intensive muscle mass growth You reach.
Creatine is a natural substance occuring in a human body. It is non-addictive and non-toxic even if higher doses. Excess creatine is excreted from the body in urine as creatinine.
Creatine is contained in sports supplements in a few forms. One of the trendy forms of creatine is Creatine ethyl ester – CEE.If You are trying to reach higher strength performance try Creatine Ethyl Ester!
CEE contains creatine ethyl ester HCl. Esters are organic compounds coming into existence in process of esterification – that is reaction of carboxylic acid with alcohols.Creatine ethylester is typical with increased positive properties of creatine monohydrate and elimination of its negative properties.
Scientific studies validated its high effectivity with minimal side effects! This product of our company is intended for demanding athletes trying to reach the highest performance and the biggest muscle mass growth. Try it and You will see!
Suggested use:
on a training day 3 – 6 capsules 30 – 60 minut prior to physical activity
on a non-training day 3 – 6 capsules before bed-time
use with plenty of water.
Ingredients:
Creatine Ethyl Ester HCl
Other ingredients: magnesium stearate (anticaking agent), gelatine capsule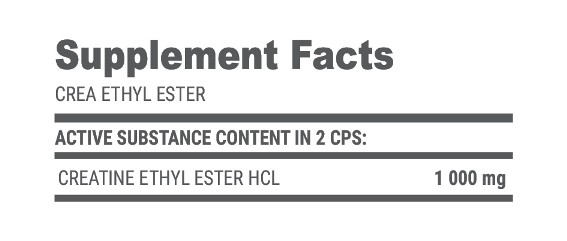 Extrifit® is not for everybody. It is not superficial. Extrifit® is intended for athletes who love heavy iron and for persons who want to show the maximum physical performance. It is for everybody who wants to be hard on him/herself and demands the maximum results from his own body. Extrifit® is for everybody who well knows that without hard work and self-denial you can´t get results and achieve dreamed-of goals.

Extrifit® is today a numerous community of people who proudly claim allegiance to this brand´s philosophy and who make up an amazing subculture of bodybuilders.

Extrifit® is a synonym for the talents and sports aspiration support. Extrifit® will show you the way to realization of your dream.
Customers who bought this product also bought: